AI21 Labs Revamps Wordtune Generative AI Assistant for Enterprise With New Features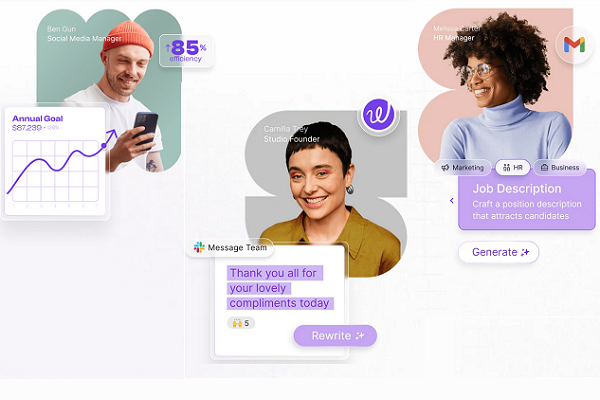 AI21 Labs has overhauled generative AI writing and reading assistant Wordtune with new features, transforming it into a platform for both consumers and enterprise clients. Wordtunes new features are aimed at enticing both kinds of customers. The new Wordtune can create templates for business documents, summarize information from mixed media (like a video and a document), and answer queries by drawing on linked databases, with citations included in the response.
Wordtune Business
Wordtune began as a browser extension for generating text, aided by rhetorical Spices, and Wordtune Read to summarize and analyze text. Since then, Wordtune has become an iOS mobile app controllable by Siri and joined Google Docs. AI21 claims there are tens of millions of Wordtune users, but the company has bigger ambitions centered on business clients. The new version of Wordtune consolidates features from across its consumer offerings into a platform for enterprises as well.
For instance, making document templates helps with designing marketing content and presentations while helping fill open jobs. The question-answering feature can solicit any linked company library to explain things to employees, with the citations ensuring the AI isn't hallucinating. Other features have been announced, though not released yet, including proactive writing suggestions, live outlines for "producing and editing full articles based on multiple key points," and long-form editing, a feature that will enable Wordtune to revise large documents all at once.
"AI21 Labs is constantly innovating to meet the growing demands from our users around the world, from Fortune 500 companies to individuals. There are so many use cases for generative AI, we updated our Wordtune platform, allowing us to combine AI-powered reading and writing capabilities into a single seamless experience," AI21 Labs CEO Ori Goshen said. "Reading and writing are deeply intertwined. We often read in order to write something, and we write so others can read it. Wordtune is the first AI-powered reading and writing application suite, designed to increase productivity and efficiency while working as a sidekick to users, instead of replacing them."
AI21 Google Cloud
This isn't AI21's only long-term ambition revealed this week. The startup and Google Cloud have partnered to add Google's BigQuery analytics platform to AI21, relying on Google's Tensor Processing Units and GPU cloud infrastructure. The goal is to help AI21 Labs speed up generative AI model development and experimentation by allowing the startup to natively integrate BigQuery and employ Google's more advanced computing resources.
"AI21 Labs is a leading generative AI startup that is taking advantage of the incredible performance that Google Cloud's leading infrastructure offers," Google Cloud CEO Thomas Kurian said. "Our new BigQuery integrations are a great example of how we are working together to bring the value of generative AI to businesses in every industry."
Follow @voicebotaiFollow @erichschwartz
AI21 Labs Combats Generative AI Hallucinations With New Contextual Answers API
AI21 Labs Embeds Wordtune Generative AI Writing Assistant in Google Docs
AI21 Debuts New Generative AI Large Language Model Jurassic-2 and APIs
---
---
---