Smartphone Voice Assistant Use Stalls Out But Consumers Want More Voice Features in Mobile Apps – New Report
The use of general purpose voice assistants such as Siri, Alexa, and Google Assistant contracted over the past 12 months according to data in a new report by Voicebot Research. A national consumer survey of over 1,100 found that fewer U.S. adults said they were using their smartphone-based voice assistant while monthly active users (MAU) also declined as a percent of the population.
Download Report
The use of voice assistants on smartphones is still a very large market consisting of more than 140 million U.S. adults with nearly 80 million MAUs. However, that is down from an estimated 144 million total users and over 90 million MAUs a year ago.
We also saw stagnation in the use cases employed on the popular voice assistants with no new breakout solutions since 2020. Consumers appear to have decided what they like to use their general purpose voice assistants for and are sticking with those at a comparable rate. One exception is streaming music which saw a boost in general purpose voice assistant use over the past year.
Voicebot's Smartphone Voice Assistant Consumer Adoption Report includes 54 charts and 53 pages of analysis with trend data going back to 2018. In addition to general purpose voice assistant data ranging from use case adoption to market share for the leading voice assistants, the report also includes 15 charts and in-depth analysis around the use of voice assistants and voice interactive features within mobile apps. Data is provided from 2018, 2020, and 2021. Market share, use case, and adoption analysis is complemented by in-depth demographic data related to age, income, and gender.
Mobile App-Based Voice Assistants In Demand
A key trend in the voice AI industry is the rise of custom voice assistants embedded in products, web apps, and mobile apps. The mobile app voice assistants and the more limited voice interactive features did not materially rise in 2021 despite strong interest from consumers. Forty-four percent of consumers expressed interest in having their favorite mobile apps add voice assistant functionality which was comparable to 2020 results. Only about 1-in-4 expressed negative sentiment about the technology.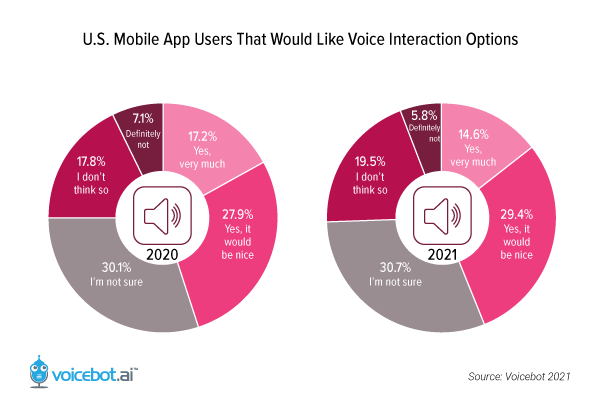 In addition, there are 14 specific app categories where consumer interest exceeds the availability of voice features in the apps. Demographic data showed some unexpected correlations between age and income with in-app voice assistant interest while adoption is evenly balanced by gender as it was last year. The most popular in-app voice assistant category used today is navigation apps. This is also the mobile app category most likely to include the functionality. For the second straight year, consumer demand for these voice interactive features exceeded supply by mobile app publishers.
Data in the Smartphone Voice Assistant Report
The Smartphone Voice Assistant Consumer Adoption Report 2022 is the most comprehensive analysis of the use, interest, and sentiment related to conversational AI technologies on smartphones published to date. Some of the 54 charts are listed below. Click the button to see the full chart list.
Smartphone General Purpose and Mobile App Voice Assistant Users
Consumer Sentiment Toward Voice Assistant Features Within Mobile Apps 2021
Smartphone Ownership and Voice Assistant Use 2018-21
Smartphone Voice Assistant User Base 2018-21
General Purpose Voice Assistant Use by Smartphone Owner Age 2020-21
General Purpose Smartphone Voice Assistant Use by Income 2020-2021
General Purpose Smartphone Voice Assistant Market Share 2018-21
Smartphone Voice Assistant Information and Entertainment Use Cases
Top 10 Smartphone General Purpose Voice Assistant Use Cases 2020-21
Consumer Adoption Barriers for Smartphone Voice Assistants
Smartphone Voice Assistant Privacy Concerns 2021
U.S. Mobile App Users That Would Like Voice Interaction Options
Mobile App Voice Assistant Feature Interest
Consumer Use Frequency of Voice Assistant Features Within Mobile Apps 2020-21
And 40 more…
Get the Report
Use the button above to access the report. Also, if you have any questions or want to share your thoughts on the findings feel free to message Bret Kinsella on Twitter.
Follow @bretkinsella Follow @voicebotai
Voice Assistant Use in Healthcare Nearly Tripled Over Two Years and Demand Still Outstrips Supply – New Report
In-Car Voice Assistant Users 127 Million in the U.S. with Strong Adoption in the UK and Germany as Well – New Report
---
---
---