Amazon Starts Supporting 'Matter' Smart Home Standard for Echo Devices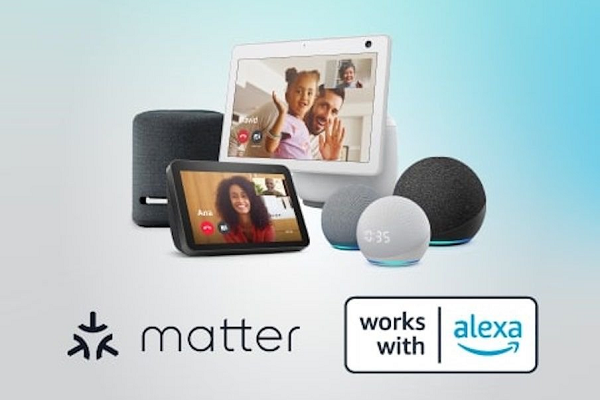 Amazon has introduced support for the Matter standard of smart home devices, beginning with 17 Echo devices and expanding to 30 Echo and Eero products next year, accounting for more than 100 million devices. The cross-company connectivity standard is also part of the new Works with Alexa (WWA) for Matter certification program, adding to the current WWA system used by Amazon to ensure Alexa-compatible devices meet its standards.
Alexa Matters
Matter was created by Amazon and a coalition of other tech companies working on the Internet of Things as a connectivity standard they could agree to share. The idea is to make Matter the default smart home platform so that customers can feel secure buying smart home devices without having to check that it matches their current setup. Every device setup and connection will share enough traits to simplify installation and require only one app to avoid an isolated smart device limited to a single voice assistant or other AI. Amazon devices will support matter, and third-party devices that use Alexa will also adhere to Matter's requirements through the WWA for Matter program. That means devices in the current WWA system need Matter certification, while new devices will have to pass both certification requirements.
"As a founding member and key contributor of Matter, we are incredibly excited about the completion of the Matter SDK program and Matter launch. Matter will help to simplify development and fuel innovation while lowering adoption barriers for our shared customers – an important advancement that complements our smart home philosophy of openness and collaboration," Amazon smart home director Marja Koopmans explained in a blog post. "Delivering high quality and reliable customer experience remains our top priority. We will continue to do the hard work behind scenes to keep smart homes running smoothly so customers can spend their time focusing on what matters most to them. The launch of Matter today is only the first step in making the smart home interoperable and easier."
Amazon also shared news about Alexa Connect Kit SDK for Matter introduced earlier this year at Alexa Live, highlighting Sengled as a company building its next smart home devices with the new service. The new ACK' provides Amazon's cloud connections, over-the-air updates, and back-end analytics to non-Alexa devices if they adhere to the Matter standard. The same goes for Alexa's Frustration-Free Setup feature. Samsung has also agreed to partner with Amazon on smoothing the use of devices on the Alexa or Samsung SmartThings platforms. Matter devices will be able to work with both smart home systems with a single setup through Matter's multi-admin feature.
"SmartThings customers have long enjoyed using Alexa's voice capabilities to give them more ways to control the home. We are excited to work with Amazon to help simplify the smart home experience and provide more choice to our mutual customers on the types of devices and services they use in their homes." Samsung SmartThings head Jaeyeon Jung said. "This collaboration ultimately provides further interoperability and will help ensure the potential of Matter is fully realized."
Follow @voicebotaiFollow @erichschwartz
Amazon Announces 'Age of Self' Amid Developer Tool Upgrades at Alexa Live
Samsung Adopts 'Matter' Smart Home Protocol for SmartThings and Galaxy
Google Home Upgrades Automation Options for More Customization
---
---
---