Amazon Alexa-Enabled Cloud Cam No More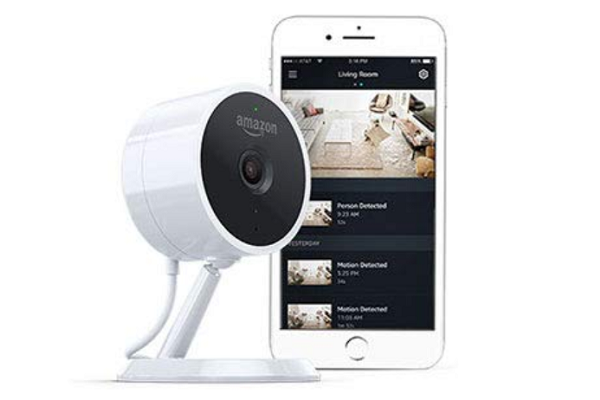 Amazon is ending support for the Cloud Cam, one of the first Alexa-controlled smart home devices. The Cloud Cam has officially been supplanted by Blink and Ring, brands Amazon acquired not long after introducing the smart home camera in 2017.
Cloud Cam Off
The Cloud Cam and its apps are shutting down and deleting all video recordings on December 2, though owners can download their video history ahead of that date. The recorded clips in the Cloud Cam app can be individually downloaded should the owner want to hang onto them. To make up for bricking the Cloud Cam, Amazon is offering a free Blink Mini camera and a year of the Blink Subscription Plus Plan. The Blink Mini is essentially the same kind of camera and can integrate into an Alexa smart device ecosystem like the Cloud Cam. The main difference is in the subscription, with the Cloud Cam's tiers based on how many cameras and length of time for storing video, while Blink subscribers need the Plus subscription for more than one camera and can choose to pay for video storage or go without. The details on how to swap cameras will be sent out later this year, Amazon said.
"With your help over the last five years, Cloud Cam has served as a reliable indoor security camera and a hub for Amazon Key-compatible smart locks that work with Alexa," Amazon explained in an email to customers. "As the number of Alexa smart home devices continues to grow, we are focusing efforts on Ring, Blink, and other technologies that make your home smarter and simplify your everyday routines."
Alexa Evolution
The Cloud Cam is following in the footsteps of other discontinued Alexa devices. Both the Dash Wand and the Echo Look faded away in 2020. The Dash Wand's barcode scanner and microphone were created to encourage users to ask Alexa to order products, while the Echo Look carried Alexa's fashion advice into a user's closet. Both of those devices had only a narrow range of tasks and were superseded by the Echo and Echo Show product lines. Similarly, the Cloud Cam is far more limited in features and Alexa integration compared to Blink and Ring. That's why Amazon wanted those companies to begin with. The Cloud Cam is a relic from when Amazon wasn't sure what people would do with Alexa or how they wanted to market smart home devices. Amazon's Alexa device strategy has evolved into the more sophisticated Build It program, where the product decision is based on pre-orders. That's how one of three colorful designs for the Echo Dot by fashion designer Diane von Furstenberg was chosen, as well as a smart sticky note printer. Other outdated Alexa devices may follow the Cloud Cam, but it stands out as an artifact of Amazon's smart home experiments in 2017.
Follow @voicebotaiFollow @erichschwartz
Amazon Dash Wand No More – Alexa Shopping Device Discontinued
Amazon Echo Look No More – Another Alexa Device Discontinued
Amazon Customers Will Pick The Next Alexa Device With New Kickstarter-Style 'Build It' Program
---
---
---