Samsung SmartThings Rolls Out Google Nest Integration, Adds Android Auto App
Google Nest's promised integration with Samsung SmartThings has begun rolling out with the debut of a Google Nest app for the SmartThings platform. The link between connecting their respective smart home platforms is designed to allow devices from one company to control those made by the other. There are still some notable gaps on the list of devices, but even the incomplete Nest app adds a lot of new options for SmartThings users interested in Google Nest devices.
Certified Smart
SmartThings users can add Nest devices to the platform once they install the new Nest app. The app can scan for nearby available devices, or the user can navigate a menu and add Nest devices manually. Nest devices on the app have been certified in the Works With SmartThings (WWST) program to ensure there won't be a problem with the software. The integration goes the other way, too, with several SmartThings devices now controllable with Google Assistant, as anticipated. The deal expands on Samsung's recent addition of Google Assistant to its smart TVs, sharing the devices with Samsung Bixby. That said, the current list on the SmartThings app lacks some of Nest's product lines due to currently incompatible APIs, such as smoke alarms and security systems. However, the missing elephant in the room is the Google Nest smart speakers and smart displays at the center of Google's smart home ecosystem. When or even if those crucial blanks will be filled in is not clear.
Google is "working with Samsung to make it easier to manage smart home products from your device," Google explained in a blog post. "You can control Nest devices, like Nest thermostats, cameras and doorbells, from the SmartThings app on Galaxy smartphones and tablets. See all your connected devices on one screen by tapping on "Devices" in the Quick Panel of the Galaxy S21."
Smart Drive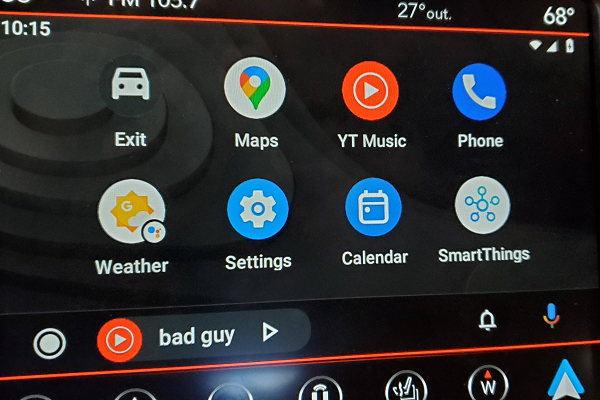 SmartThings and Google are extending their partnership beyond the home and into cars too. Android Auto has added a SmartThings app, providing control of SmartThings devices via Google Assistant from a vehicle and control of the car through SmartThings. As spotted and shared on Reddit, the SmartThings icon appears on the Android Auto screen, allowing drivers to switch lights or other devices on or off remotely. Conversely, Galaxy smartphones can use SmartThings to locate, unlock, and even start a car's engine if it's compatible with Samsung's Digital Key service. The list of cars capable of connecting to SmartThings will get a lot longer soon, thanks to Samsung teaming up with the Car Connectivity Consortium to standardize its Digital Key for more auto brands. Assuming Google and Samsung continue to tie their systems together as planned, their integration does set a good goalpost for AI platform interoperability. Easing the limitations of customers when they decide what smart home devices to buy could be a boon to both tech giants as they compete against more exclusive smart home ecosystems like Amazon Alexa.
Follow @voicebotai   Follow @erichschwartz
Google Nest Devices Will Soon Be Compatible with Samsung SmartThings
Google Assistant Jumps into Samsung TVs, But Bixby Isn't Going Anywhere
Samsung Reveals New Bixby Interface and Features in Major Update
---
---
---