Mercedes-Benz Will Keep Using Cerence to Run Revamped MBUX Virtual Assistant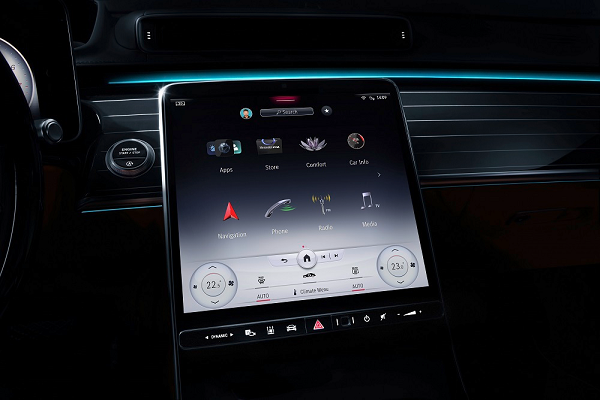 Mercedes-Benz is extending its partnership with automotive voice tech developer Cerence as it introduces the second generation of the Mercedes-Benz User Experience (MBUX) virtual assistant. The new and improved voice assistant will continue to use Cerence's conversational AI platform to control environmental, entertainment, and other systems in the car.
MBUX 2
The existing version of MBUX handles tasks like running heat and air controls, searching for local businesses, and streaming music in the car. The new version will add more personalized elements by using Cerence's voice biometrics technology to identify different drivers and adjust the car based on their preferences. Each driver who sets up a voice profile can set their own seat position, temperature, and media favorites, which the voice assistant will implement when it identifies the driver's voice saying "Hey, Mercedes." The voice recognition operates from every seat, meaning MBUX will be able to tell where each speaker is sitting. The microphones in the car will then leverage Cerence's speech signal enhancement tech to allow for multi-seat phone calls along with an intercom system to talk in the car, for some reason. The AI can even understand implicit commands, turning on hot or cold air if someone says I'm cold, or I'm hot, respectively.
Cerence's integration even extends beyond the car, thanks to Mercedes using the Cerence Studio platform released earlier this year. Mercedes owners can use MBUX to connect to and control smart home devices while driving. To discover and learn about all the car and its features, the voice assistant also serves as an interactive manual called Explore me that explains everything from how to connect a smartphone to where the tools in the car are located.
"We are proud to be an integral piece of the incredible MBUX system, which delivers an exceptional experience for Mercedes-Benz customers wherever the road takes them," Cerence CEO Sanjay Dhawan said in a statement. "MBUX showcases the power and intelligence of an automotive voice assistant when it's built with the right technologies and supported by decades of expertise and experience in the space."
Cerence Soars
MBUX represents what Cerence is likely keen to bring to all of its growing number of clients, a full suite of AI tools and programs that really make the car stand out. Anticipating the demand for this level of integration helped propel the company to beat analyst expectations consistently all year and break quarterly and annual revenue records with its highest bookings ever in the last quarter. Notably, the conference call for the quarterly report also broke new ground by having a synthetic clone of Dhawan's voice reading out the first part of the results using the Cerence Reader feature that debuted earlier this year. It's one of several additions to Cerence's platform, including driver-customized wake words and both the turn-key Cerence ARK Assistant and more customizable Cerence Studio variants of the company's platform. Dhawan also pointed to renewed contracts as an indicator of Cerence's financial strength, including adding back some clients who had previously switched to Cerence rivals like iFlytek and SoundHound.
Follow @voicebotai   Follow @erichschwartz
Cerence Studio Gives Carmakers Advanced Voice Assistant Design Tools
Mercedes MBUX is an Alternative to Alexa or Google Assistant in the Car
---
---
---