Amazon is Trying to Make Alexa More Appealing to Parents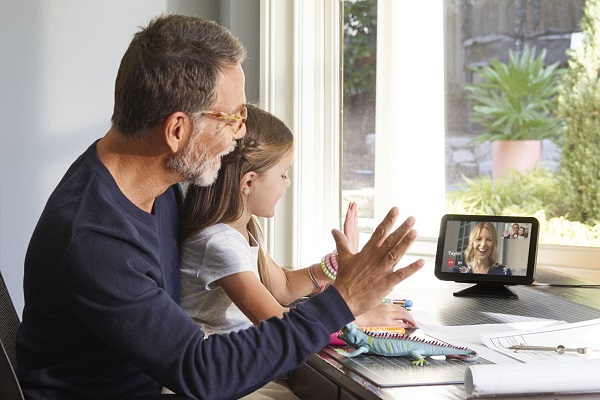 Amazon made a point at its hardware event on Wednesday of emphasizing that it wants people to think of the Alexa voice assistant as a useful and safe tool for kids and families. A sizeable chunk of the announcements focused on features designed to appeal to parents and soothe concerns about integrating Alexa into their daily routines and lives.
Alexa's Parental Control
Amazon launched its first Alexa device specifically for kids over a year ago. The latest iteration of the Echo Dot Kids Edition came out in June and Alexa skills for children with premium content for purchase arrived soon after. Amazon wants to include kid and family-friendly features in all its Alexa products, which is why it made sense that the hardware event included the news that the Alexa FreeTime service will come to the new Echo Show 8 and other Alexa-powered smart displays. Amazon originally created the Alexa FreeTime service to provide kid-focused content and voice skills to Echo and Echo Dot users. Adding visuals like appropriate videos and showing the lyrics to children's songs to the FreeTime service on Echo Show devices is a no-brainer. Similarly, the new Echo Glow smart lamp lets kids adjust their own night lights and play with lighting in their room.
The company is also expanding its safety and privacy features for its child-focused products, especially when it comes to parental controls. Parents could already set time limits and restrict the content accessible by their kids, but they'll soon be able to temporarily shut off the Wi-Fi of target devices by asking Alexa. Parental approval will also be necessary for children to talk to each other through their smart speakers and smart displays. The new Alexa Communications for Kids mode lets children audio or video chat with one another through Alexa, but only if parents on both sides approve and add an entry to the approved list.
Parental supervision via voice assistant won't be limited to what happens at home. Amazon announced that it will roll out new Alexa education skills in partnership with education tech companies like Blackboard, Canvas, and Coursera. Students, and their parents, will shortly be able to ask Alexa about homework or for updates posted by teachers on those platforms to stay up to date on classroom activities.
Privacy Questions Answered?
Whether Alexa and other voice assistants can assure the safety and privacy of children is an ongoing debate. Alexa is already facing lawsuits over whether it violates the Children's Online Privacy Protection Act (COPPA). Amazon insists that it does adhere to the law, but that doesn't mean it hasn't kept adding new privacy features at a rapid clip since May when a new privacy center and a command for Alexa to delete recordings was unveiled.
On top of the information about their voice assistant usage customers can already access, Amazon added a couple of new ways to interrogate Alexa. Users can ask the voice assistant to repeat what it heard most recently and also for an explanation as to why Alexa did something unexpected.
Amazon wants to increase its market share among children, and make them loyal to the voice assistant at an early age. But with children, parents are the gatekeepers. It remains to be seen if the family-friendly features and increased transparency are enough for parents to trust Alexa interacting with their children despite current controversies. If successful, it could set the template for how voice assistant developers approach the market for the younger audience. Still, there's no guarantee any of it will be enough to appease worried parents or head off the kind of regulation Amazon and other voice assistant makers want to limit.
Follow @voicebotai    Follow @erichschwartz
16 New Products Amazon Introduced at Todays Launch Event – Earbuds, Glasses, a Ring, and More
---
---
---