This is Why Amazon Echo Smart Speaker Sales Are Slowing – 60% of Prime Members Own One
Survey data from from Business Insider says that 60% of Amazon Prime Members in the U.S. already own a smart speaker. This means that Amazon's core customer base is approaching saturation in smart speaker ownership.
The data also reveal that 30% of non-Prime members own a smart speaker. That means consumers with a Prime membership are twice as likely to own a smart speaker as non-Prime consumers.
Smart speaker ownership saturation in Amazon's core customer base could explain declining sales momentum for Echo smart speakers reported by Canalys and Voicebot.
Many people were astonished earlier this year when Canalys estimated global smart speaker sales by Google outpaced Amazon in both Q1 and Q2 of 2018. Those that looked very closely at the numbers learned that Canalys thinks that Amazon also sold fewer Echo smart speakers in Q2 2018 than they did in Q2 2017. That means the company had both a relative market share decline combined with a nominal year-over-year unit volume decline.
Trends Causing Echo Market Share Erosion
The Canalys estimates reflect new device sales in the quarter. When you consider installed base of all consumers with access to a device, we also see a pattern that suggests most of the growth in the U.S. is going to Google. Readers were shocked that a Voicebot survey of 1,200 U.S. adults showed Google's share of the installed smart speaker base rose from 18.4% of consumers to 26.9% while Amazon's share fell from 71% to 62%.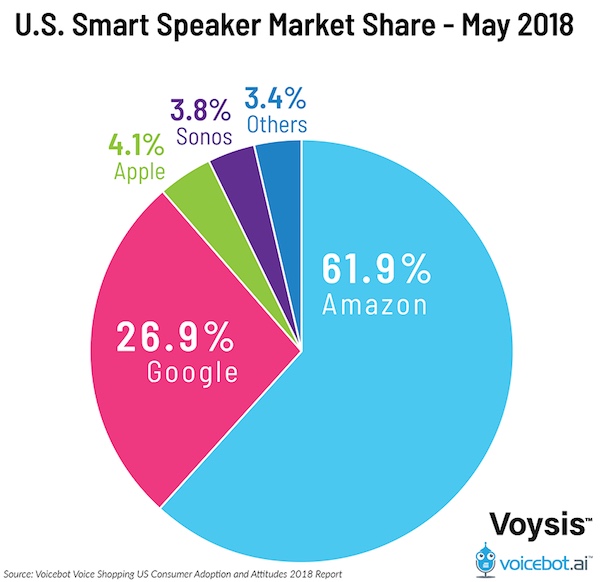 Three trends appear to be driving this trend of Echo relative installed base market share decline.
Google Home and Apple HomePod are appearing in more households. Since both had lower or no market share, every home that purchases a device dilutes Amazon's share of installed base. This is certainly occurring.
Amazon's Alexa voice assistant is available in more than just Echo smart speakers. Whenever a consumer purchases a Sonos One with Alexa onboard, that likely displaces an Echo purchase. There are other devices with Alexa inside, but Sonos is one of the few that is popular enough to deliver material market share for Alexa as a voice assistant while cannibalizing Echo smart speaker sales.
Amazon Echo smart speakers are largely being purchased by consumers that already own one or more of the  devices. As a result, Echo sales are not capturing new installed base market share.
We could model the first two trends based on available data, but the third was conjecture. New data from Business Insider suggests Amazon may be nearing saturation with its core customer base, Prime Members which could support the argument.
60% of Prime Members Own an Echo Smart Speaker
Business Insider is reporting that a 2018 survey of 525 U.S. consumers found that 60% of Amazon Prime members own a smart speaker. That makes Prime members twice as likely to own a smart speaker as consumers that have not joined Amazon's shopping program.
If you consider Prime members to have the highest awareness of Echo smart speakers and a higher likelihood to be drawn into the Amazon ecosystem, then you can see that growth is going to be harder. Amazon is approaching saturation in its core customer base. Non-Prime members may still purchase an Echo. However, they have less of an incentive to value Amazon's offering over Google or Apple. If you are not listening to Prime Music or ordering frequently from the Amazon.com through Alexa, then the rationale for purchasing an Echo is lower than someone that can take advantage of these features.
The numbers behind Amazon's slowing smart speaker sales momentum may point to the curse of success. Amazon was successful in getting the majority of its core customers to quickly acquire a device and now most of them have one. Gaining new customers requires persuasion of a different sort to consumers that have lower affinity for the company.
Regardless, Amazon is likely to say that this doesn't really matter all that much. The goal has never been to sell as many Echo devices as possible. Instead, Amazon has said it wants to have as many Alexa access points available as possible and build affinity for the voice assistant as opposed to a device. This makes sense when you talk about Sonos, but becomes less compelling when you realize that the other big players that are scooping up market share have no Alexa onboard and never will.
Follow @bretkinsella Follow @voicebotai
Bang and Olufsen with Google Assistant Sets a New Standard in Premium Smart Speaker Pricing at $2,250
Google Home Beats Amazon Echo for Second Straight Quarter in Smart Speaker Shipments, Echo Sales Fall
---
---
---