Sonos IPO Values Company at $1.5 Billion, Offers Smart Speaker Pure Play for Investors
Sonos this morning began trading shares on NASDAQ completing its planned IPO and establishing a company valuation of $1.5 billion. There are many unicorns in Silicon Valley on paper, but Santa Barabara based Sonos is now the real deal. Shares began trading at $15 which is below the forecasted range of $17-$19 according to CNBC. The IPO is expected to net the company $208.5 million. Company revenue in the last fiscal year ending September 30, 2017 was $992 million. The first six months of the 2018 fiscal year netted an 18% revenue rise compared to 2017 by registering $656 million.
A Smart Speaker Pure Play
It is a fact that most of Sonos device sales to date are wireless speakers without any built-in intelligence. However, the company clearly indicated in its S-1 IPO documents that voice assistant-enabled smart speakers will drive the company's future.
We have increasingly focused our product roadmap on voice-enabled speakers, and we recently introduced our first voice-enabled speaker, Sonos One, in October 2017, and our first voice-enabled home theater speaker, Sonos Beam, in July 2018.
Sonos also indicated in its SEC filing that it would complete Siri and Google Assistant integration into one or more of its devices in 2018. We also see that all but low-end wireless speakers are rapidly adding voice assistants to claim the "smart" designation. These moves appear to be justified. Strategy Analytics estimates that smart speakers will account for 90% of the WiFi connected speaker market in 2022. Voice interaction has quickly become a must-have feature. Sonos once accounted for over 50% of WiFi connected speakers, but as of May 2018 commanded only 3.8% of the smart speaker installed base.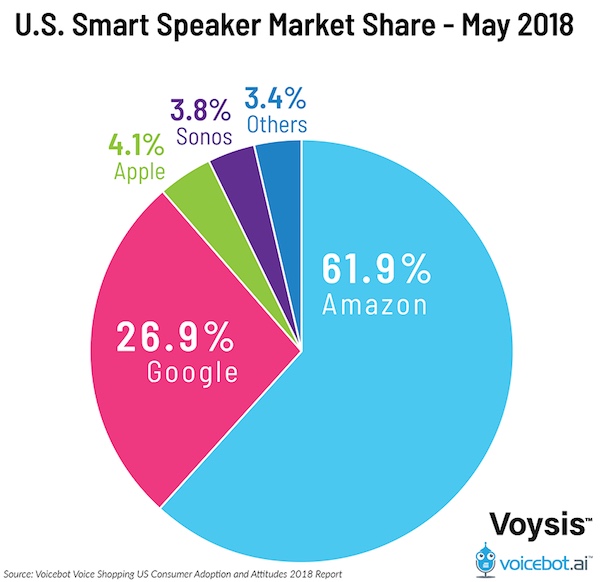 However, the company's evolution has positioned it as the only public stock that can narrowing track the fortunes of the smart speaker market. Amazon and Google make dominate smart speaker sales today, but these are conglomerates and there is no way to effectively invest in their smart device businesses alone. Sonos may just have become the closest proxy for a tracking stock for the device side of the smart speaker industry. With that said, it's relatively small market share and reliance on voice assistant services from Amazon and Google may make it a poor proxy over the long-term.
As of 12:30 pm EST on the opening day of trading for Sonos (ticker SONO), it is trading at $18.36, a 23% premium over the initial offering price. It appears to be an IPO heading in the right direction, for now. The lingering question is how much smart speaker market share will truly be available to providers not named of Amazon, Google or Apple.
Follow @bretkinsellaFollow @voicebotai
Sonos Files for IPO, Comments on Smart Speaker Focus and Dependence on Alexa
Sonos One, Eufy Genie and Amazon Echo Dot Exhibit Characteristics of Hearing Loss in New Study
---
---
---