Sonos Files for IPO, Comments on Smart Speaker Focus and Dependence on Alexa
Sonos has filed with the U.S. SEC for an initial public offering hoping to raise $100 million at a valuation ranging between $2.5 to $3.0 billion.
The filing emphasizes Sonos' focus on smart speakers to drive future growth and the risk of its dependence on voice assistant technology providers such as Amazon that are also competitors selling their own line of smart speakers.
Sonos also appears to commit in the regulatory filing to complete its previously stated goal of integrating both Google Assistant and Apple Siri into its products in 2018. However, it doesn't say how that integration will take place or if they will definitely by on the same device.
Sonos has filed paperwork with the U.S. Securities and Exchange Commission (SEC) for an Initial Public Offering (IPO) of common stock valued at $100 million and is targeting a valuation of $2.5 billion and $3 billion according to Bloomberg. Given Sonos' increasing reliance on smart speakers as an engine for growth, it may represent one of the best pure play investments to track the rise of voice assistant technology.
The company earned nearly $1 billion in revenue in its 2017 fiscal year which ended on September 30th. In the first six months of the 2018 fiscal year from October 2017 through March 2018 the company generated $656 million in revenue reflecting an 18% increase over the same period in the previous fiscal year. Sonos is known for being a leader in the WiFi home speaker market and more recently a leading independent provider of smart speakers.
From Market Leadership to Challenger Brand
Sonos rose to prominence by leading the development of the WiFi-enabled speaker market. In 2014, some analysts suggested Sonos controlled 50% of the WiFi speaker segment, but by 2016 had fallen to second place and just over 25% market share, well behind Amazon Echo smart speakers. The big change in position was precipitated by the introduction of smart speakers to the segment category. David Watkins from research firm Strategy Analytics referenced this leadership in a June 2017 comment saying,
"Sonos has long been synonymous with connected home audio and as recently as 2014 it accounted for 50% of the small but growing Wi-Fi speaker market…Amazon has hit upon a winning formula with its Alexa-powered series of Echo speakers and its rapid success has clearly sent shock waves through the industry. However, we believe that demand for Amazon's own brand devices is having largely an additive effect on the overall wireless speaker market particularly when you consider that the popular Echo Dot is often paired via Bluetooth to a better quality speaker."
Smart Speakers Upended Sonos' Market
Strategy Analytics at the time estimated the WiFi speaker segment grew 62% between 2015-2016 and smart speakers accounted for three-quarters of the increase. More important for Sonos' future, the firm forecasted that smart speakers would rise from 42% of the WiFi speaker market in 2016 to nearly 90% by 2022. Given that the growth in WiFi speakers would be in smart devices, no one was surprised when Sonos launched its first smart speaker just three months later, the Amazon Alexa-enabled Sonos One.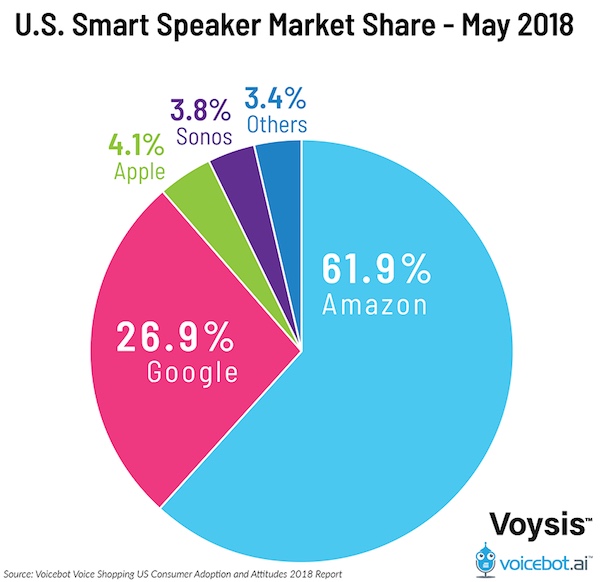 In the newly defined smart speaker market segment, Sonos is a minority player with only about 4% market share, nearly identical to Apple HomePod, but trailing market leaders Amazon and Google by wide margins. However, this analysis also points to three bright spots for Sonos.
Sonos has a small market share, but the the segment is growing rapidly driven in part by the greater capabilities offered by voice assistants and also by large advertising spending by Amazon, Apple and Google.
Sonos is by far the largest of the independent smarts speaker manufacturers by market share.
Sonos also commands nearly 40% of the premium smart speaker segment focused on audio quality. That segment today is also served by Apple HomePod, Google Home Max and offerings from JBL and Harman Kardon. The margins for premium smart speakers also appear to be reasonable compared to devices often sold at cost or at a loss in the low-end segments dominated by Amazon and Google.
Smart Speakers are Core to Sonos Strategy
Smart speakers are prominently featured in the Sonos IPO filing including this statement:
We have increasingly focused our product roadmap on voice-enabled speakers, and we recently introduced our first voice-enabled speaker, Sonos One, in October 2017, and our first voice-enabled home theater speaker, Sonos Beam, in July 2018.
However, there are also some risks associated with this strategy. The key risk is that Sonos relies on voice assistant providers for the "smart" designation. According to the Sonos S-1 IPO filing:
"We also face intense competition in our markets, and we are dependent on a number of technology partners for the development of our products, some of which have developed or may develop and sell voice-enabled speaker products of their own. For example, Sonos One and Sonos Beam feature voice-control enablement powered by Amazon's Alexa technology while Amazon currently competes by offering speaker products of their own. As we continue to execute on our product roadmap, our success in introducing voice-enabled speakers enabled with third-party technology, especially voice control, will increasingly depend on the willingness of our technology partners, many of which sell or may develop products that compete with ours, to continue to promote and enhance our products. These technology partners may cease doing business with us or disable the technology they provide our products for a variety of reasons, including to promote their products over our own. If these partners disable the integration of their technology into our products, demand for our products may decrease and our sales may be harmed."
In short, smart speakers may be key to Sonos growth in the future, but its dependence on third-parties for the voice assistant features represent the greatest risk to ongoing success. Sonos has a unique strategy among independent smart speaker makers today in that it plans to offer voice assistants from multiple providers so user can employ whatever voice assistants they prefer and potentially have more than one active on a device simultaneously. The company positions this as necessary because smart speakers are typically shared devices and different household members may prefer different voice assistants. Supporting multiple voice assistants will also reduce the risk of any one provider holding Sonos hostage for better terms, but that is a secondary benefit of the core strategy.
Sonos Commits to Google Assistant and Siri Integration
Sonos wants users to choose its hardware knowing that it will support all of the leading voice assistants. CEO Patrick Spence recently refused in an interview to confirm that Google Assistant would join Amazon Alexa on Sonos One devices in 2018. However, the S-1 confirms that the company will add it along with Apple Siri in 2018, "We recently introduced voice control with Amazon's Alexa technology, and plan to incorporate Apple's Siri via Airplay 2 and Google Assistant in 2018."
Marketing messages are a fairly low level of commitment. Comments from executives in media interviews express more commitment but are also easily reversed. Including a commitment in a regulatory filing where a change could lead to charges of misleading investors is the type statement that is very likely to be fulfilled. Granted, the statement doesn't confirm that the voice assistants will all be available on the same device or be available simultaneously. That is the company goal, but it must overcome engineering challenges to make it a reality. Regardless, the multi-assistant feature may turn out to be a far more important differentiator than the audio quality and ease of use Sonos employed to build the company's reputation and customer base.
Sonos Patent Portfolio Used to Persuade Google to Allow a Multi-Assistant Device
Sonos One, Eufy Genie and Amazon Echo Dot Exhibit Characteristics of Hearing Loss in New Study
---
---
---