Smart Speakers to Reach 100 Million Installed Base Worldwide in 2018, Google to Catch Amazon by 2022
Smart speaker installed base will reach 100 million worldwide in 2018 according to research firm Canalys.
The rise will reflect about 2.5 times growth over 2017 and by 2022 the smart speaker installed base will exceed 300 million.
Amazon Echo will maintain over 50% smart speaker installed base market share in 2018, but Google Home will catch up by 2022 when both devices settle in at 34% market share.
Apple HomePod will finish 2018 at 4% worldwide smart speaker market share and rise to 10% in 2022.
Research firm Canalys estimates that smart speakers will reach a global installed base of 100 million in 2018. That will reflect an annual growth of 2.5 times over 2017. By 2020, the firm expects the smart speaker installed base to more than double again to 225 million and continue rising to more than 300 million by 2022. That would reflect about 8x growth over five years.
Amazon Maintains Lead in 2018, but Google Catches Up By 2022
Canalys also reported that Amazon Echo will maintain installed based market share above 50% through 2018 while Google Home will rise to around 30%. However, the market share gap will gradually narrow between 2018 and 2022 when Amazon Echo and Google Home will both settle at 34% smart speaker installed base market share. Canalys Research Analyst Vincent Thielke commented:
Amazon and Google know the power of an ecosystem lock-in and have been engaged in a fierce price war to try and build the largest installed base. As Amazon's Prime Day looms, customers expect discounts, and the company is set for a rush of shipments.
This rise in Google market share is reflected in other recent Canalys and Voicebot data. Canalys reported in late May that Google Home outsold Amazon Echo for the first time in Q1 2018. More recently, a national survey in the U.S. by Voicebot revealed that Google Home had risen by 8.5% in smart speaker installed base while Amazon had fallen by 10%.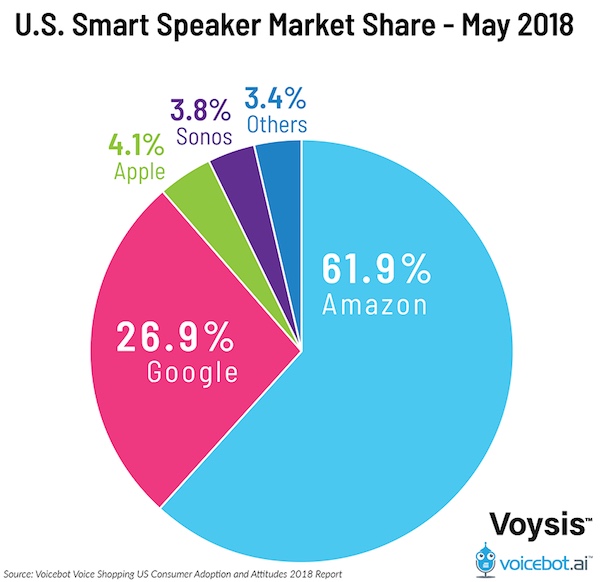 Amazon at one point commanded 100% smart speaker market share because it had the only product in the market. So, it is only natural that Amazon's market share has declined as alternative products have launched. However, despite inevitable market share erosion Amazon could still maintain a dominant position. Canalys' reading of the data suggests another outcome. Google will reach smart speaker installed base parity with Amazon forming a new duopoly in the yet another technology product category.
Apple HomePod to Hit 4% in 2018, 10% in 2022
Another interesting element of the forecast is the position of Apple and its HomePod smart speaker. Voicebot reported in June that Apple reached 4.1% smart speaker installed base market share in May of this year in the U.S. The Canalys forecast appears bullish because it assumes Apple can reach that same level of market penetration globally before year end. That would seem to be optimistic, but Apple did start shipping in Canada, France and Germany in June and was already available in the U.S., U.K. and Australia. The global expansion should help Apple's efforts. However, the high price point will continue to be a barrier to expanding the HomePod user base.
Canalys expects HomePod to continue to build its worldwide market share through 2022 when it reaches 10%. That also seems optimistic given where Apple is today with the HomePod product. However, the introduction of a lower price point HomePod and improvements in the Siri voice assistant together with Apple's iPhone installed base could prove a potent combination in the coming years. You can read the full announcement from Canalys here.
Follow @bretkinsella
Google Home Beats Amazon Echo in Q1 2018 Smart Speaker Shipments According to New Study
---
---
---