New Voice Assistant-Enabled Mask and Earbuds Combo Promises Clear Audio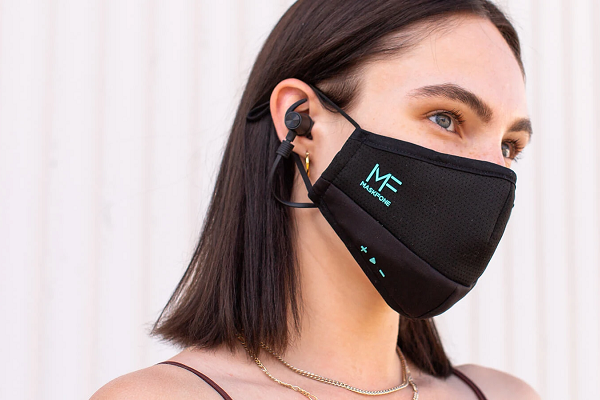 Smart tech developer Binatone introduced a uniquely timely product ahead of CES 2021, combining wireless earbuds with an N95 to help limit the spread of COVID-19. The MaskFone integrates the N95 filter mask with the electronics while using the in-built microphone to make it easier to communicate without the usual muffling that masks engender.
Mask Talk
First previewed late last year ahead of their CES debut, the MaskFone is designed to make using hearables easier while still wearing a mask. The wireless earbuds, including noise cancellation, don't stand out much in themselves; they last for about 12 hours of use and link with the Hubble Connect app on smartphones. It's the integration with a microphone and a detachable (for washing) mask that makes them intriguing. The microphone built into the mask uses background noise isolation to make the wearer's voice sound clearer, so taking a phone call won't make you sound like you're talking through a mouthful of cotton.  Notably, Amazon Alexa is integrated into the Hubble Connect app, accessible by a button on the mask along with volume and other controls. The mask can also be programmed to connect to Siri or Google Assistant.
"Especially given the current situation, the MaskFone fixes the most common issue of removing your mask to speak on the phone in order to be heard clearly and exposing yourself and those around you while doing that," Binatone owner Dino Lalvani said in a statement. "Using MaskFone, both you and your surroundings will always stay safe and healthy."
The $50 mask isn't the only pandemic product Binitone is planning on showcasing at CES. The company is planning to unveil what it calls a MegaFone mask, which comes with a detachable voice projector and walkie-talkie mode, as well as the option to pair with other MegaFone mask wearers.
Masquerade
Experiments combining tech, fashion, and masks have started to crop up more frequently nearly a year after the pandemic began. The MaskFone is a direct response to a common complaint about masks, necessary as they are. It's reminiscent of the device Japanese tech startup Donut Robotics created to go over a cloth mask that can translate speech into different languages and broadcast from a connected smartphone's speakers. There have also been creative applications of tech and fashion to face masks. Fashion technology entrepreneur Chelsea Klukas created Lumen Couture masks that let wearers speak or draw any message they want on the removable LED screen. Video game designer Tyler Glaiel shared his own DIY voice-activated mask with LED lights, attracting enough interest to fund a successful Kickstarter and make them commercially.
Follow @voicebotai   Follow @erichschwartz
This Fashion Tech Pioneer is Animating Face Masks With Voice-Responsive LEDs
Watch This Voice-Activated Light-Up Face Mask Speak and Smile
---
---
---