Peter Durlach SVP of Healthcare Strategy at Nuance – Voicebot Podcast Ep 159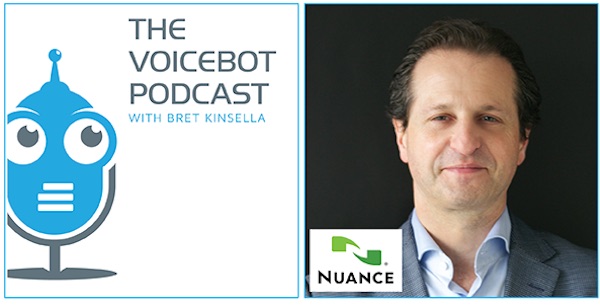 Peter Durlach started out in Audiology technology in the 1980s and then quickly transitioned to speech technology in 1988 at Articulate Systems which was acquired by Lernout and Hauspie in 1999. He then moved on to lead Unveil Technologies, a pioneer in the contact center segment. Eventually, Durlach wound up at Nuance twice with a brief interlude at the hospital system UPMC.
Today, Durlach leads Nuance's $1 billion healthcare business which includes solutions used by over 85% of radiologists and 65% of physicians that incorporate speech recognition, dictation, and custom assistants into their daily practice activities. In our conversation, we discuss Pete's three decades in the speech and voice technology, building custom assistants, and where voice is and will be making a big difference in healthcare.
Show Notes – Peter Durlach Interview Nuance
You can listen to the podcast interview above, on Google or Apple Podcasts or most of the leading podcast players.

Follow @bretkinsella Follow @voicebotai
Scott Stephenson CEO and Co-founder of Deepgram – Voicebot Podcast Ep 158
Mayo Clinic Discusses Voice Initiatives for Healthcare – Voicebot Podcast Ep 133
Punit Soni Founder and CEO of Suki the Voice Assistant for Healthcare – Voicebot Podcast Ep 156
---
---
---