Overall Consumer Voice Assistant Use Rises Deceptively Quickly: Report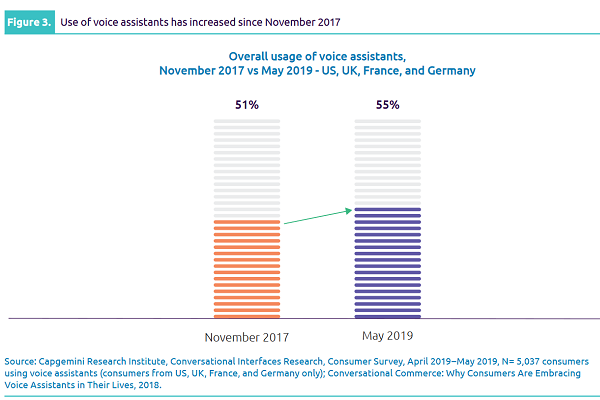 The overall use of voice assistants by consumers in the U.S., United Kingdom, France, and Germany rose 4% in 18 months according to a new report from Capgemini Research Institute. While it may seem a small growth, 4% of all consumers is a huge number when considering the potential population of consumers under discussion and is a part of the overall trend of voice assistant adoption.
Voice Assistant Popularity Rises
The survey by Capgemini Research Institute involved 5,037 consumers from the four countries. The report compared data from November 2017 and May 2019. According to the report, 51% of consumers had used voice assistants during the first survey, rising to 55% during the second one, 18 months later.
The growth in use matches users' increased satisfaction with their voice assistants. The first survey found 61% of consumers were satisfied using a voice assistant on a smartphone. That number rose 11% to 72% during the follow-up. The increase in approval was slightly greater for smart displays and smart TVs, with satisfaction rates growing from 44% to 57% between the two surveys with smart speakers seeing the steepest improvement in satisfaction over the 18 months. Only 46% of consumers were satisfied with using a voice assistant on a smart speaker in the 2017 survey, but that rate jumped 18% by the 2019 survey, with 64% reporting they were satisfied. A few reasons for the uptick could be increased familiarity with voice-first devices as well as the steady improvement of the technology itself.
Voice Assistant Device Ownership
Devices with voice assistants built-in continue to proliferate. Not only do almost all smartphones come with one or more options for a voice assistant, but they are present or accessible through more devices than ever. Cars, earbuds, Wifi routers, and even clothing can all come with a voice assistant now. Wearable tech spending is set to soar 27% to $52 billion next year alone, according to Gartner. The link between more availability and more use means that the growth trend spotted by Capgemini is likely to continue.
That's particularly true for the devices designed explicitly for voice assistants like smart speakers and smart displays. As Voicebot's own data found, smart speaker ownership in the U.S. alone grew 40% in 2018, to 66.4 million, while smart display ownership grew an enormous 558% in the same period, doubling during the last six months of the year alone. The saturation point, where almost all consumers will at least have experimented with a voice assistant, even if they choose not to own a device with one, may arrive very soon.
The popularity and prevalence of voice assistants among consumers have important implications for businesses and organizations as well, according to the Capgemini survey. We will take a look at what commercial organizations are applying voice assistants in another article.
Follow @voicebotai    Follow @erichschwartz
U.S. Smart Display User Base Grew 558% in 2018 and More Than Doubled in Second Half of the Year, Amazon Holds Two-thirds Market Share
U.S. Smart Speaker Ownership Rises 40% in 2018 to 66.4 Million and Amazon Echo Maintains Market Share Lead Says New Report from Voicebot
---
---
---