Juniper Estimates 3.25 Billion Voice Assistants Are in Use Today, Google Has About 30% of Them
Juniper Research estimates about 8 billion voice assistants will be in use in 2023 and the growth rate between 2019 and 2023 will be 25.4%.
That means about 3.25 billion voice assistants are in use today
Smartphones are the biggest device segment for voice assistant access and smart TVs are growing the fastest at over 121%
U.K.-based Juniper Research announced this week that it forecasts 8 billion digital voice assistants will be in use by 2023. This has led to a lot of headlines about the pervasive availability of voice assistants in four years time. However, many people have missed the more significant finding. The 8 billion figure is based on a model that assumes a 25.4% compound annual growth rate. That means the Juniper estimates that there are 3.25 billion digital voice assistants in use today and the capability is already pervasively available globally.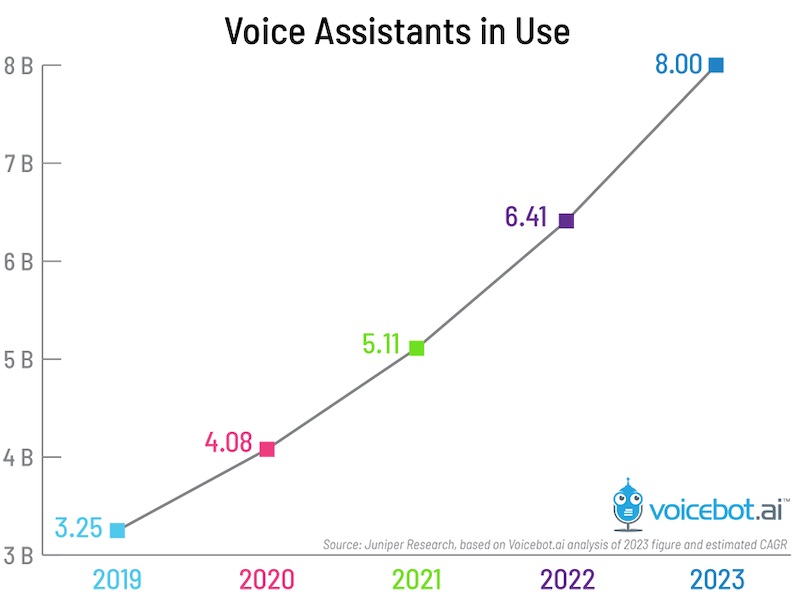 Juniper counts voice assistants as the pairing of an individual user with a particular assistant and device. That means some users will have multiple assistants in use while others will have none. The firm also includes both consumer and enterprise assistants in its analysis according to a white paper published this week. Given that Google announced 1 billion devices with Google Assistant access in January 2019, Juniper's analysis suggests the company commands about 30% of total voice assistant addressable devices worldwide. This is driven in large part by the dominance of the Android mobile OS.
China Voice Assistants to be App-Based, North America OEM-Based
A key difference is expected to emerge in how voice assistants will be adopted in China compared to the rest of the world. The key services that will be voice-enabled in China are not in the mobile OS. Instead, WeChat, Baidu, and other services that are apps and are expected to command the majority of assistants in use in China, while other countries will see more use of OEM-based assistants such as Siri and Google Assistant. An announcement by Juniper states:
"As demand for multi-platform assistants increases, standalone apps, made by independent vendors for smartphones and tablets, will decline. Juniper expects revenues from these apps to begin to fall in key markets from 2022. The big exception here is China, where companies like WeChat and Alibaba provide app-based offerings alongside speakers that are not part of an operating system. This means that China will have 78% of voice assistant apps installed globally in the next 5 years."
Smartphones Biggest Segment, But Smart TVs are the Fastest Growing
In terms of how users will access their assistants, Juniper says smartphones are dominant today but pointed out that smart TVs are the fastest growing segment at 121.3%, followed by smart speakers at 41.3% and wearables at 40.2%. The key point here is that voice assistant access isn't simply a story of smartphones and smart speakers. Other devices will increasingly serve as voice assistant access points. Voicebot.ai revealed earlier this year that 60% more U.S. adults use voice assistants monthly in the car than on smart speakers.
Follow @bretkinsella Follow @voicebotai
Twice the Number of U.S. Adults Have Tried In-Car Voice Assistants as Smart Speakers
Google Assistant to be Available on 1 Billion Devices This Month – 10x More Than Alexa
---
---
---