Alexa Microwave is a Best Seller, the Least Expensive Microwave on Amazon.com, and Carries a 4.1 User Rating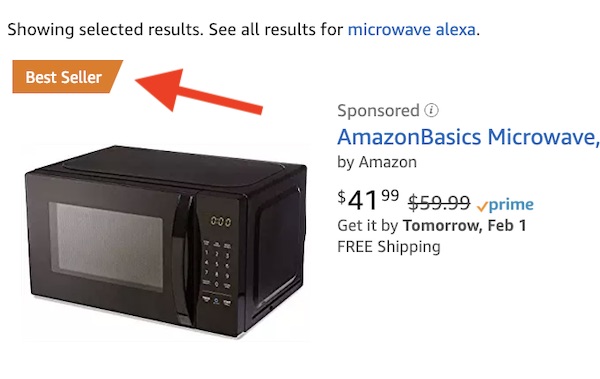 Amazon turned a few heads in September when it revealed an Alexa-enabled microwave as part of its AmazonBasics product line. That product is now listed on Amazon.com as a best seller and yesterday went on sale for 30% off the $59.99 list price and is available for $41.99. That's a rock bottom price even for an underpowered microwave. In fact, it is currently the lowest priced microwave the Voicebot team could find on Amazon.com in the U.S. There is only one microwave currently offered that has a list price below $59.99. Mainstays has a 700W microwave listed at $59.84. The only less expensive options are used models although Sunbeam has a unit for less than a dollar more than the Alexa Microwave's list price and Westinghouse has one for the same list price. But the sale makes the AmazonBasics Microwave at least 30% less expensive than alternatives.
Alexa Microwave Reception Generally Positive
While adding voice control to a relatively simple machine doesn't seem like a substantial feature addition, the reviews are mostly positive with 513 users offering an average of a 4.1-star rating. The positive comments are largely related to the Alexa integration. An example is a reviewer, RainNW, who said,
"Although the Alexa integration seemed a little gimmicky at first, I quickly changed my mind after realizing how simple it was to use. Traditional microwaves have a million features, but honestly, do you even know how to use half of them? Gone are the days of pushing a button and looking at cryptic abbreviated text on the numerical LED screen, wondering what input it is expecting."
Scott Grover expressed a similar sentiment while also explaining that beyond Alexa integration, you should be prepared for an entry-level microwave. It doesn't have the power or space of pricier offerings.
"This is a very nice microwave. Does all the things that you'd want a microwave to do, with the added benefit of having Alexa do all the work of programming. Another added benefit is having the clock know when the time changes twice a year. I've used this "micro" wave for a bit over a week, and it checks all the boxes. One must note that it is what it is. This is not a 1000 watt machine. This is not a 2cf oven. This is tiny, and it has 700 watts. Some things might take a bit longer. If you remember all of that, this is just about perfect for a one or two person household."
Both RainNW and Mr. Grover were among the 60% of buyers that recorded 5-star reviews for the product. Twenty-four percent reported reviews of 3, 2, or 1 stars and most of their complaints were related to the underpowered performance of the device and not the Alexa integration. J.N. said:
"This microwave is not powerful and heats food evenly. Very low quality product. It is cool that it is voice activated with Alexa, but you need a product that actually works, you can't just add voice to a crappy product."
Micah Heath echoed a similar sentiment:
"Such a crappy microwave. It has absolutely no power. Something that I cook regularly at work just fine takes literally 4 times longer in this microwave and still doesn't fully cook. The alexa integration is cool, but not cool enough to make up for not being able to actually cook your food. If you are looking for a giant expensive way to reorder popcorn, this is perfect for you."
A few reviewers also complained about connectivity issues. This should immediately remind you that Amazon recently stopped selling the Echo Wall Clock after connectivity complaints. It is unclear whether this is a Bluetooth LE connectivity issue, but it appears to be less common than among Echo Wall Clock users. Aside from a few issues that may be damaged or defective products, the general sentiment was positive about Alexa and less pleased about the core product capabilities.
Differentiating a Commodity
Low-cost microwaves are good examples of undifferentiated commodities. After wattage and space, most of these devices are fairly similar. Some manufacturers differentiate on styling or brand, but other than that price is a key competitive factor. The Alexa microwave is interesting because it has a low price, the lowest when on sale, and has a unique differentiator. Amazon points this out clearly in its product comparison table.
There is price, wattage, cubic capacity and everything else is identical across products. Voice interaction is, therefore, a distinctive feature today. It is not clear what Amazon's long term plans are for the device. The aggressive discounting may be an attempt to sell off unsold inventory or just Amazon's normal merchandising approach. However, what the product did was show that voice can be an interesting feature addition even for commodity products. Don't be suprised if you see a number of third-party manufacturers introduce Alexa-connected microwaves in late 2019.
Follow @bretkinsella Follow @voicebotai
What is the Deal with the Alexa Powered Microwave? It's a Message to Appliance Makers.
Amazon Pulls Echo Wall Clock in Response to Customer Complaints
---
---
---