Samsung Expected to Launch Smart Speaker in the Next Month
Samsung's first smart speaker may debut as soon as August 9th
The device is expected to be priced around $300 and compete against high-end devices such as Apple HomePod
The timing aligns with the upcoming Galaxy Note 9 launch and the expected release of Bixby 2.0
The Wall Street Journal (N.B. paywall) is reporting that Samsung has finalized its Bixby-powered smart speaker and it will debut potentially as soon as August 9th when the Galaxy Note 9 is unveiled in New York. The report by Timothy Martin says the device will retail for $300 and will be positioned as a high end music player. According to Martin:
"The speaker—internally code-named "Lux"—has a bowled shape, with a legged bottom and lights at the top, one of the people said. It will be marketed as a high-end music player and boast features like sound shifting, where the speaker's audio can be beamed in the direction of a person providing verbal commands, the person said."
This description sounds a lot like Samsung's R6 wireless speaker, which the company already refers to as a "smart speaker." The "smart" in this description refers not to an onboard voice assistant, but rather to the audio performance and ability to connect to a smartphone. It's a high end blue tooth speaker and would be a good option for Samsung to leverage its existing product portfolio, add some microphones and install access to Bixby.
Does the Market Need Another High End Smart Speaker?
There have been widespread reports that Apple HomePod has struggled to move inventory and has canceled production orders. According to a national survey conducted by Voicebot, HomePod captured 4.1% of the smart speaker installed base in the U.S. after only about three months in market. While impressive in some ways, this figure lags Amazon and Google by large margins and it's not clear how Apple can close the gap.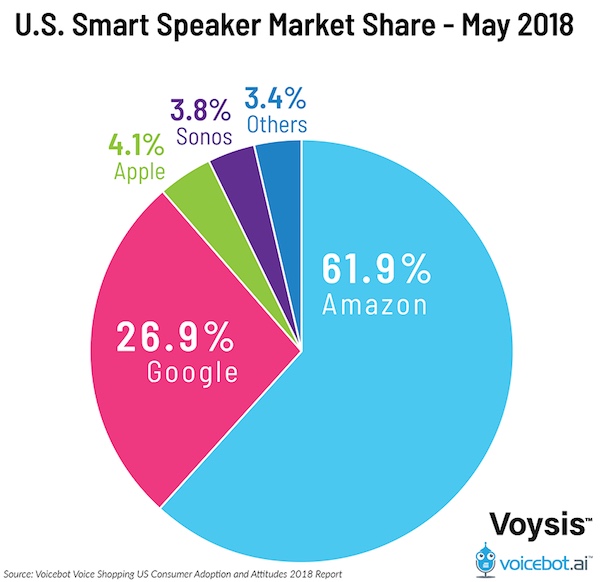 One of the reasons for Apple's slow start is the $349 entry-level price tag. Baidu has face a similar challenge in China for its Raven H smart speaker which landed in the premium segment and likely sold no more than 10,000 units. The $300 expected price tag will pit the new Bixby smart speaker against HomePod ($349), Google Home Max ($399), Harman Kardon offerings (ranging from $199-$349) and Sonos One ($199). Samsung needs users for Bixby and the premium segment is not likely to do much to expand the user base. Diehard Samsung Galaxy fans may be excited, but the incentive for purchasing the device is unclear in an already crowded premium segment.
Samsung also needs to think about its position in South Korea which was the third largest market for smart speaker sales in Q1 2018 according to Canalys. SK Telecom and KT jumped out as market share leaders and Naver has a product from its Line social network division. In addition, Google Home is expected to arrive this year.
It would seem that Samsung could have helped itself out by launching a low priced entry-level device to help establish market share in South Korea where it is strongest and the competition is weakest. Smart speaker purchases and habit formation around Bixby could also have increased the incentive for these same consumers to purchase or remain loyal to Samsung smartphones. The company may still follow this strategy, but the path to success in the voice assistant space is not to get sequestered into the niche of luxury.
Betting on Bixby 2.0
Before everyone writes off Samsung Bixby, it is important to note that Samsung did say in 2017 that over 10 million consumers were using the virtual assistant through its smartphones. They didn't indicate the frequency of use or primary use cases, but having users aware of and employing the voice assistant is a good first step. In addition, Samsung's DJ Koh said in February that over 800 companies had applied to test Bixby 2.0 which may release as early as next month. The success of any Samsung smart speaker will be inexorably tied to the quality of Bixby 2.0 and its support among third-party developers. When Samsung does announce its new smart speaker, focus more on the software improvements than the device. Voice assistant software capabilities will be what really matters.
U.S. Smart Speaker Market Share: Apple Debuts at 4.1%, Amazon Falls 10 Points and Google Rises
Bixby 2.0 Expected in Fall 2018, In Testing with 800 Companies
---
---
---